REQUIREMENTS TO BECOME A DOUBLE BOARD CERTIFIED SURGEON
Achieving board certification – let alone double board certification – is a lengthy, rigorous process that few surgeons achieve. It involves many years of education and training. Before seeking board certification, the prospective applicant must complete premedical education at a university or college, followed by an MD degree program at a recognized medical school and a three- to five-year residency program.
Most surgeons seek their first board certification in the specialty in which they completed their residency. It is achieved by demonstrating expertise to one of the specialty boards of either the American Board of Medical Specialties or the Royal College of Physicians and Surgeons of Canada. Among other requirements, this typically involves passing a written and (sometimes) oral exam. To maintain board certification, a surgeon must participate in ongoing education and assessment, keep up with the latest advancements in the field, and show best practices relating to ethics, patient safety and communications.
Most facial plastic surgeons first become board certified in either otolaryngology/head and neck surgery or plastic surgery. They then become "double board certified" by achieving board certification in facial plastic surgery. To be considered for certification by the American Board of Facial Plastic and Reconstructive Surgery (ABFPRS), a surgeon must possess medical licensure and submit a worthy record of clinical experience (at least two years) that includes operative reports for at least 100 facial plastic surgeries. The surgeon then must complete a two-day examination with the ABFPRS. He or she also must subscribe to the ABFPRS Code of Ethics.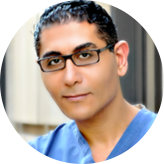 By Dr. Sam S. Rizk, M.D., FACS.
Dr. Rizk is a double board-certified facial plastic surgeon who specializes in rhinoplasty surgery and a recognized expert on the latest advances in facial plastic surgery techniques. He performs a range of facial plastic surgeries at his New York practice.