Septal Perforation FAQ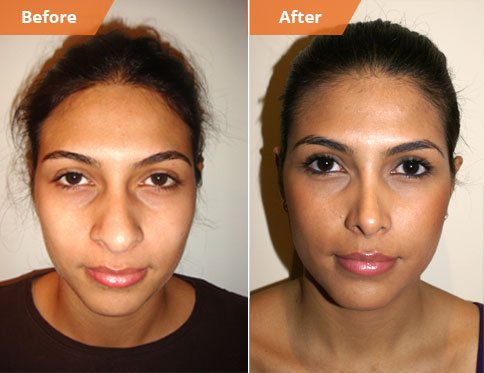 *Results may vary.
View More Photos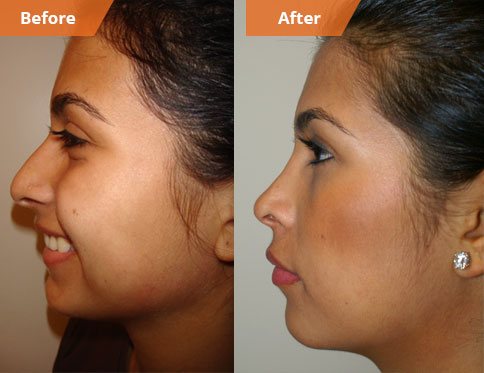 *Results may vary.
View More Photos
What is a septal perforation?
A septal perforation is the presence of a hole or gap in the nasal septum, the soft cartilage area that separates the two nasal passageways.
How does a septal perforation occur?
There are a variety of ways in which the nasal septum can become perforated. Physical trauma, such as one received from a sporting injury, could cause a hole to form in the septum. In other cases, a septal perforation is the result of a nasal surgery, such as a septoplasty (to repair a deviated septum) or a rhinoplasty (a surgical cosmetic enhancement of the nose). The hole could also be a result of dying cartilage tissue, which could be brought on by a variety of diseases or chemicals snorted through the nostrils (e.g. cocaine). In rare cases, cancer can also lead to a septal perforation. Receiving a nose ring is an example of a self-inflicted a septal perforation.
What kinds of problems does a septal perforation cause?
Patients with septal perforations may hear a slight whistling sound when breathing through the nose. It can also cause general pain and discomfort, and can become a site of frequent infections. Patients have reported symptoms including bleeding, crusting, and breathing irregularities as a result of septal perforations. If left unattended, these holes may grow bigger, causing problems to become more severe.
What can be done about it?
Keeping good hygiene is the first and often the only step needed for patients with minor problems associated with a septal perforation. The nostrils should be frequently cleansed with saline solution to prevent bacterial and debris buildup. A gel is also recommended to maintain the nasal environment and prevent excessive crusting of the mucous membranes. If the hole is larger and/or causes problems such as serious infections or collapse of the nose structure, surgery may be required.
How is surgery to repair a septal perforation performed?
If the hole is small enough, sutures may be enough to close up the hole. If the hole is larger, tissue grafts must be required. The grafts may be obtained from the patient's ear or rib, and then used to fill in the hole by attaching the grafts to the surrounding tissue. Operations to correct a septal perforation pose a particular challenge because the end result is difficult to predict. There is no guarantee that blood flow will return to the nasal structure, and such nutritional deprivation may result in recurring perforation. Another method to restore proper airflow involves covering up the hole from both sides using a small prosthetic button, however this approach requires long-term care to maintain the prosthesis, so is often less desirable.
How long will it take to recover after a septal perforation repair surgery?
Dr. Rizk is able to visualize the nose in high definition using his advanced 3D cameras. By using minimal incisions within the nose and avoiding large blood vessels, he is able to significantly cut down recovery times for septal perforation operations. Patients may return to work within a couple of days, and the nose should completely heal within a month.
I might have a septal perforation, what should I do?
Schedule a consultation with Dr. Sam Rizk to discuss your concerns. Dr. Sam Rizk is double-board certified plastic surgeon with extensive experience in addressing problems of the nose. His office in NYC is easily accessible by car or public transportation.