NYC double-board certified facial plastic surgeon Dr. Rizk can make significant aesthetic changes while maintaining the heritage and ethnic features most important to the patient. Recognized for his innate ability to craft extremely natural, harmonious noses, Dr. Rizk's African American rhinoplasty technique is praised across the Northeast, from Pennsylvania to Boston
A Quick Guide to African American Rhinoplasty
What Results Can an African American Nose Job Achieve?
African American rhinoplasty may be used to:
Make a flat nose more pronounced and lifted
Make a small nose more defined
Balance the nose with the chin and forehead
Slim the width of nostrils that are "flaring"
Reduce the length or width of a nose
Depending on a patient's needs and expectations, Dr. Rizk might suggest another cosmetic surgery in combination with your rhinoplasty procedure, such as cheek or chin implants to balance the facial proportion.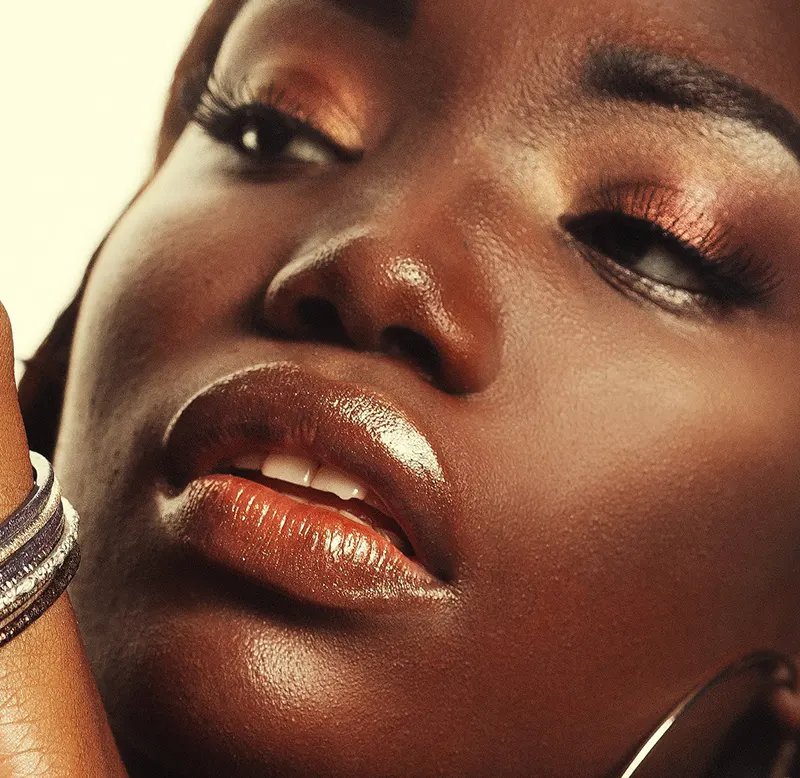 Real Patient Results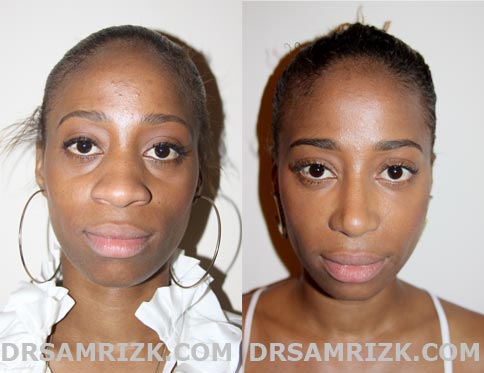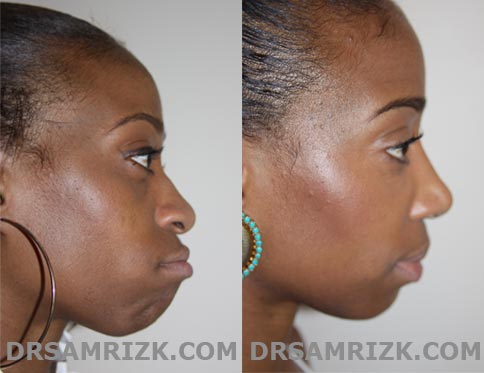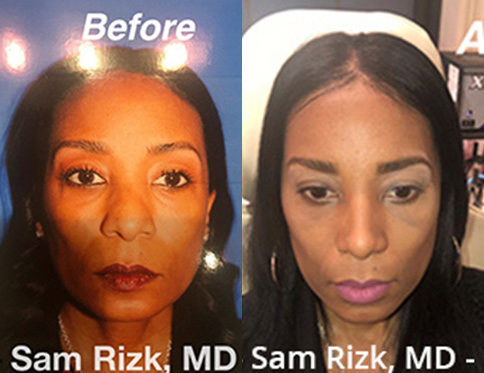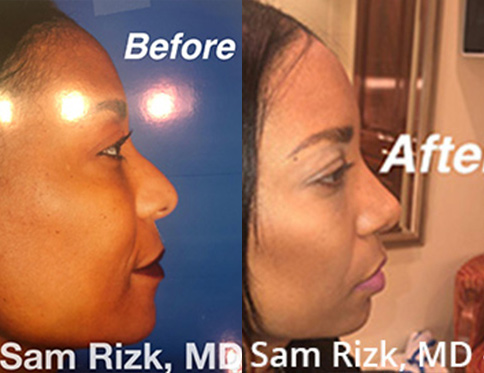 Patient is a 25 yo patient interested in creating a bridge to nose and more tip definition and reducing nostrils and also lifting the hanging columella. Patient underwent rhinoplasty and a customized medpor implant in nose which is sculpted during the rhinoplasty. Patient also underwent nostril reduction from incisions inside nostrils,rather than from external part near cheek. Patient is shown one year after rhinoplasty. This is considered an ethnic rhinoplasty procedure as patient has thick tip skin and weak tip cartilages as well as a flat bridge.
She is 10 days after open rhinoplasty and alar base reduction.
Candidates For African American Rhinoplasty
The nose is a prominent feature of the face that has a great impact on the facial profile, especially if it's perceived by others as too flat, too small or non-symmetrical to the rest of your face. Ethnic rhinoplasty might be an option for patients age 15 or older, at this time your nose has fully matured. At Manhattan Plastic Surgery, African American rhinoplasty is customized on a patient-to-patient basis.
Reasons For Having Rhinoplasty
Reasons for Having Rhinoplasty might include:
Desire to balance facial features better
Achieve a more symmetrical face
Develop a better facial profile
A boost of confidence in your facial appearance
Tatler Magazine – Top Rhinoplasty Surgeon in NYC/New York
Vogue – Endoscopic Muscle Facelift/Necklift and Fraxel-Co2 Laser
The Ethnic Rhinoplasty Procedure
Since the skin of the nose is shapeless, its primarily composed of bony architecture and underlying cartilage. This is why most african american noses require grafts and implant materials to achieve a defined, elevated nose. Dr. Rizk may use other techniques to reduce the nostril size, or width of the nose. Prior to african american rhinoplasty surgery in his NYC office.
Here's what you can expect during a rhinoplasty procedure:
You'll be under twilight sedation for the 2-3 hour procedure
If additional procedures are performed, surgery time varies
Swelling and bruising is expected afterwards
Recovery and downtime may range from 10-14 days
Scars are concealed either within the nose, or beneath the tip of the nose
African American FAQs
Is it technically different from general rhinoplasty?
General rhinoplasty and ethnic rhinoplasty are similar in quite a few ways, from the equipment used to the surgical process relied upon. However, the techniques Dr. Rizk uses in african rhinoplasty cases are very different and various strategies are used to correct issues based on the outcome you desire.
As an African American, How should I choose a surgeon for rhinoplasty?
When researching a rhinoplasty surgeon, it's important to do extensive research and not limit your choices to surgeons that have worked only on African Americans, as they may lack other types of experience that will help them reach well-rounded solutions. Dr. Sam Rizk has not only worked with patients from a large pool of cultural backgrounds, but continues to get many requests for his work internationally.
What risks are associated with African American rhinoplasty?
Since the skin of an african american rhinoplasty patient tends to be thicker, there are certain limitations presented if a patient seeks extensive refinement. There are also risks associated with the use of artificial implants. And, the same risks are present as with general rhinoplasty.
What is a typical Rhinoplasty in African American patients?
For African Americans patients, Dr. Rizk developed specific subset of ethnic rhinoplasty techniques. His experience, as well as his surgical skills, allow him to provide patients, including some who are refused by other doctors due to the complexity of their nose, to improve their nose's appearance and functionality. In this type of rhinoplasty, the goal is to maintain ethnic identity while subtly suppressing certain qualities that the patient identifies as undesirable. Dr. Sam Rizk of NYC is very experienced with working on noses of patients with an African American and/or African heritage and understands the nuances necessary to be successful with enhancing their noses.
How long does it take to heal after rhinoplasty?
Dr. Rizk is committed to providing the most accurate results and shortest healing times possible
Written Patient Testimonials

Dr. Rizk and his staff were absolutely incredible! They made me feel so comfortable throughout this entire process and I am so grateful for everyone (especially Dr. Rizk) for helping me look the best version of myself. My nose looks natural and perfect and I am in love with the results!!! If you are on the fence, I definitely encourage you to come to this office because Dr. Rizk gave me the confidence and grace to present myself to the world!
-Leah Abramson

Words cannot express how tremendously grateful and impressed I am for his services. The process was painless and he produced beautiful results that I'm so happy with. Dr. Rizk is extremely precise, patient and detail orientated. He narrowed my nose 1mm at a time! I'm already looking forward to my next small tweek with him.
-Allison S

Fixed my nose that was extremely crooked from a car accident. Also did my brother's nose which case out beautifully
-Katie M

Dr. Rizk is a great surgeon and to top it off he has a great personality, great bedside manners. The entire staff is very nice and friendly. My review is over due…I had Ethnic Rhinoplasty with Dr.Rizk. Before finding Dr.Rizk I did extensive research to find a doctor that specializes in African American rhinoplasty and also I had some breathing issues. There aren't a lot of double board certified plastic surgeons that specializes in thick skin ethnic rhinoplasty. After I met with Dr.Rizk for consultation I knew he was the surgeon for me. His manager Dila was so helpful and informative with helping me throughout the entire process with planning for my surgery. The nurse Tatyana and Jola were both amazing and so caring. The anesthesiologists was great and made me feel very comfortable with general anesthesia as I was a little nervous. After 7 days I came back to have the cast removed…I was in love with my new nose although Dr.Rizk did say it was still swollen. As every month passes I see a change in my new nose and I am so Happy. I know that Dr.Rizk May be a bit pricey but keep in mind it's a lifetime investment. I have no regrets and I am so happy With my decision….This is a surgery I knew I wanted for a very long time And I wanted to get it right the first time around. I am forever grateful to Dr. Rizk and his entire staff for making this process great for me.
Read More
-Dee M.

I travelled from London, UK to have rhinoplasty with Dr. Rizk. I took my time researching ethnic nose jobs as I know we have some of the most challenging ones based on how many nose jobs I've seen that appear 'botched' on people of African descent. In some cases, the ethnicity is lost or the nose just looks smaller but not prettier than before. After reviewing Dr Rizk's before/after content, I was convinced he's the man for the job. He told me he will not only make my nose smaller, but he will also make it prettier. Any surgeon can make a nose smaller, in any case, most 'botched' noses are smaller, but it takes someone with an artistic eye to make a nose prettier and in harmony with an individual's face. I told myself I would never get my nose done until I found someone with this capability. Not only were his African American rhinoplasties gorgeous on his patients but he also retained their ethnicity. What eventually sealed the deal for me was when the doctor explained how the nasal bones have to be broken (osteotomies) on most ethnic patients to get that refined brow-tip aesthetics and create better facial harmony with the new nose (something many surgeons avoid doing for a number of reasons like not having the correct 3D equipment and ultimately giving their patient a substandard result). I was convinced from there. I did video consultations before flying out to NYC for my procedure. The doctor has a great team who assisted me throughout and accommodated my requests, being an out-of-town patient, when they didn't really have to. As far as the cost goes, Dr Rizk is an artist first and a skilled surgeon second, having honed his skills for decades and is a master of his craft vis a vis the cost. I'd rather pay a premium and love my new nose once and for all, than get into bargain hunting with cheaper surgeons, get a poor result which 9/10 is reflective of the low cost, and then get into the cycle of revision surgeries to correct the original procedure. The latter scenario always proves more costly and there's a chance it may never be as good as it could have been if it was done properly the first time. This is one's nose, right in the middle of one's face, the least one could do is get it done by the right surgeon. All in all, I love my new nose, I'm glad I trusted Dr. Rizk with it and he comes highly recommended. He really is the best at what he does.
Read More
-Leah Abramson
Disclaimer: The images viewed on this page are actual patients of Dr. Rizk who have given consent to show their images on this website. Dr. Rizk respects the privacy of his patients and has blocked the eyes to conceal some of his patient's identities.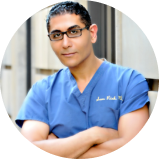 By Dr. Sam S. Rizk, M.D., FACS.
Dr. Rizk is a double board-certified facial plastic surgeon who specializes in rhinoplasty surgery and a recognized expert on the latest advances in facial plastic surgery techniques. He performs a range of facial plastic surgeries at his New York practice.