Teen Rhinoplasty
Teen nose surgery is custom-tailored to each patient. As a result, nose surgeons may use any number of techniques when performing the procedure. It all depends on the patient's goals and unique nasal structure.
Dr. Rizk uses rhinoplasty to address a variety of issues in teens. For example, he can remove a bump or hump, reshape the tip, decrease the size of the nostrils or straighten the nose. He can also make a teen's nose bigger, smaller, or more in proportion with the rest of the face. Dr. Rizk can also repair structural problems to improve nasal functions, such as breathing.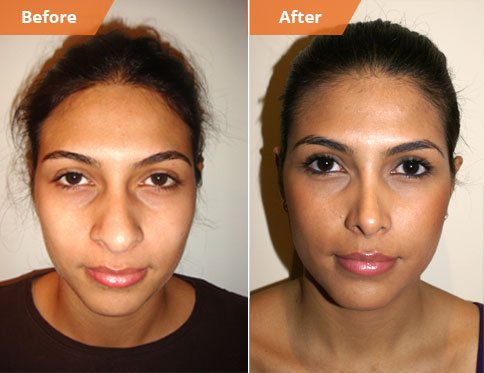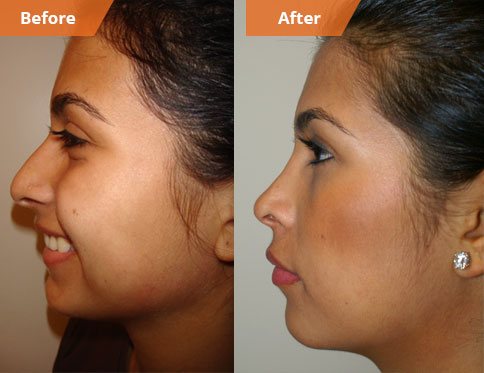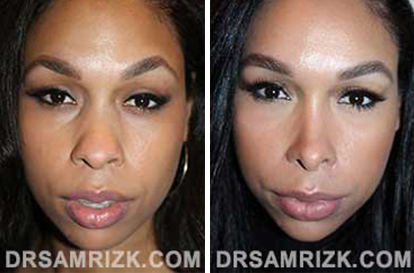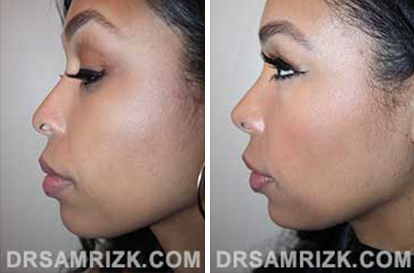 23 year old female who underwent open rhinoplasty with grafts and alar base reduction. The patient has thick skin making this procedure an ethnic rhinoplasty. The nasal bridge and alar base was slimmed down to better compliment her facial features.
*Results may vary.
Techniques Dr. Rizk Uses To Perform A Teenage Nose Job
The goal of all cosmetic rhinoplasty is to create aesthetic harmony, for a more beautiful appearance. Dr. Rizk uses whichever techniques necessary to achieve this goal. When performing your surgery, he may make any of the following changes, often in combination:
Straighten the nose
Alter the shape of the tip
Adjust internal structures, such as the turbinates
Add or remove cartilage
Insert nasal grafts
Address breathing problems
Dr. Rizk is highly-renowned for the techniques and technologies he uses to promote rapid recovery from teen nose surgery.
For instance, when performing nose surgery he uses a 3D telescope to get a better view of the internal structures of the nose. He also makes smaller incisions, which allow for greater precision while leaving sensitive blood vessels undisturbed. He leaves the incisions partially open to allow for better drainage.
In addition, he uses special tissue glues and dissolvable sutures, so there is no need for nasal packing. He sculpts at a deeper level than most surgeons, which leads to more natural-looking results.
Thanks to his advanced techniques, most of his teen rhinoplasty patients look presentable approximately five days after surgery.
Is Teen Rhinoplasty Different from Regular Rhinoplasty?
To qualify, your nose must be fully developed. This is the primary factor that distinguishes teen rhinoplasty from adult rhinoplasty. It is also the most important factor in determining if a teen is an appropriate candidate for a nose job.
Any nose job procedure is tricky and does have some associated risks. As a result, Dr. Rizk takes special care to ensure that his teen patients have realistic expectations and are ready to have plastic surgery.
Nose surgery cannot completely transform a teen's life.
All teen patients under the age of 18 are required to receive permission from a parent or guardian before moving forward with plastic surgery. Also, if necessary, he may request that a teen patient meets with a psychologist or psychiatrist prior to surgery.
Dr. Rizk will not perform nose surgery on teenage girls until they are about 15 or 16 years of age. Teenage boys develop slower, so they need to wait until about 17 or 18 years of age before undergoing the procedure. A key detail, whether teen male or female, is that feet must not have changed in size for 12 months.
In the end, there is nothing wrong with waiting for a couple of years to have the procedure. So, if you have any doubts, the recommendation is that you wait.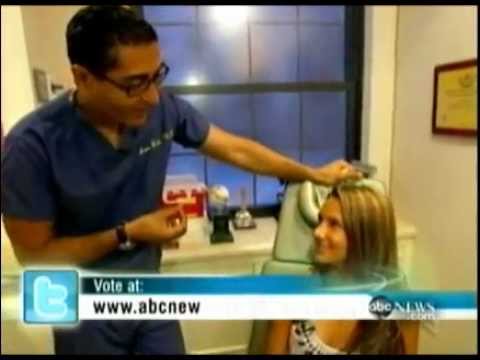 ABC Nightline's Lead Story- Interviewing Dr. Sam Rizk and his patient about teen rhinoplasty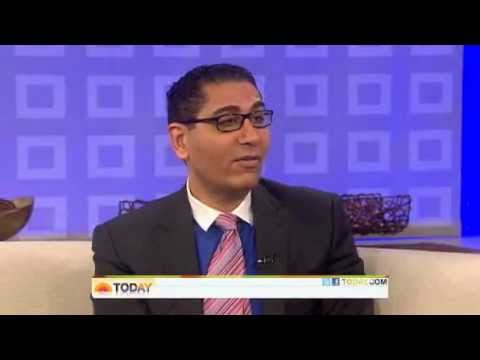 Dr. Sam Rizk's Interview on the Today Show (NBC) with Mat Laeur on Teenage Rhinoplasty/Plastic Surgery
Psychological Considerations
Dr. Rizk recommends that children considering plastic surgery see a psychologist, to make sure they are mature enough and emotionally equipped to handle the process. It is very important that the child feels comfortable with the decision. Dr. Rizk will conduct his own evaluation, and if he feels that the child has been unduly influenced by parents, peers, or anyone else, he will not move forward with surgery.
Ultimately the decision to have plastic surgery can only be made by the patient.
How Young Is Too Young For Nose Reshaping?
There is no one-size-fits-all answer on how young is too young for rhinoplasty, and many teens today are seeking surgery earlier.
The ultimate decision is based on these key factors:
Physical development:
Has the nose stopped growing? If nose reshaping surgery is performed too early, the nose will be out of proportion with the rest of your features. The minimum age is 13 and up, but this is a very individual determination.
Maturity level:
Is the teen emotionally ready for the procedure and all it entails? This includes their ability to understand and follow pre-and post-surgery instructions.
Expectations:
Will a nose job change a teen's life? Yes, in many cases it can, but it won't necessarily turn a chess champ into a prom king or queen on its own. It may improve self-confidence, which of course, will have spillover effects on the desire to socialize. If there are issues with breathing or the teen sounds like they are underwater when speaking, it may also improve these situations.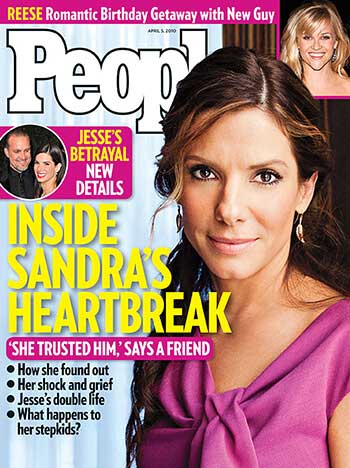 Teenage Rhinoplasty featuring Dr. Rizk's Patient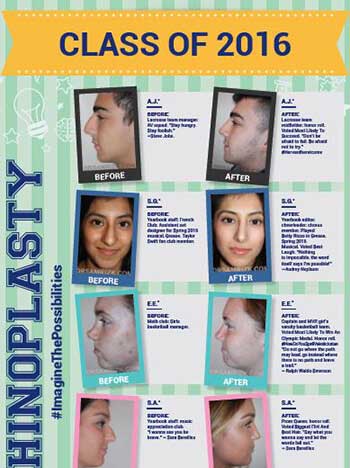 Dr. Sam Rizk Pioneers Game-Changing, Rapid Recovery Rhinoplasty Techniques For Teens
How to Find the Right Surgeon?
There are some important considerations to take into account when looking for a surgeon to perform a nose job on your teen.
First and foremost, the surgeon you choose should have experience performing facial plastic surgery on teens. The surgeon should also be board certified by the American Board of Facial Plastic and Reconstructive Surgery (ABFPRS) and specialize in nose jobs.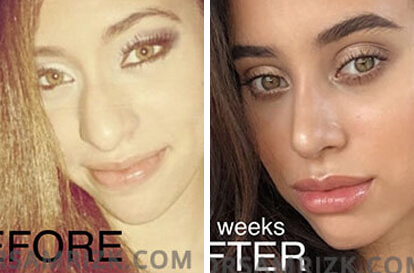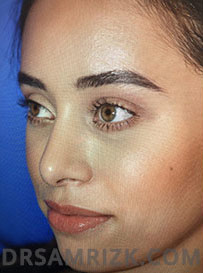 Female patient who had an Open Rhinoplasty. Photos shown here are 6 weeks after surgery.
*Results may vary.
Most facial plastic surgeons are often board-certified in otolaryngology (ear, nose and throat surgery) as well, which means that they have received extensive training with and have in-depth knowledge of the internal structure of the nose, not to mention its external appearance. These surgeons are trained to deal with both functional issues, such as breathing, and the external structures of the nose.
5 Tips for Teen Rhinoplasty New York Patients
There are a number of issues teens (and their parents) should consider prior to undergoing rhinoplasty. Here are five tips to get you started.
Make sure your nose is fully developed.
Speak with your parents. You need the permission of a parent or guardian to undergo nose surgery.
Do it for yourself. If your decision is based on pressure from a boyfriend, girlfriend, parent, or anyone else, this is not OK.
Have realistic expectations. The surgical procedure will not completely transform your life. Ask yourself if you have realistic expectations before considering a nose job. If not, you are not a suitable candidate for the procedure.
Don't be in a rush. There is nothing wrong with waiting a few years if you're not ready (physically or mentally) for nose surgery.
Why Patients Choose Dr. Rizk for Teenage Nose Surgery?
Most patients elect to have teenage rhinoplasty with Dr. Rizk in part because they are impressed by his extensive training and experience. He underwent training at some of New York City's top hospitals, including Memorial Sloan-Kettering Cancer Center, Lenox Hill Hospital, and Manhattan Eye, Ear and Throat Hospital. He also completed a fellowship in facial plastic and reconstructive surgery in California.
Dr. Rizk is board certified by the American Board of Facial Plastic and Reconstructive Surgery as well as the American Board of Otolaryngology-Head & Neck Surgery. This double-board certification is a rare achievement among surgeons. Obtaining double-board certification is a lengthy, rigorous endeavor that few doctors choose to tackle. In addition to obtaining medical licensure, to obtain board certification a surgeon must receive approval from one of the boards of the American Board of Medical Specialties.
The Today Show - Dr. Rizk on Teen Rhinoplasty
Double board-certified surgeons do this twice, which takes years of study and hands-on practice. To maintain board certification, a surgeon must participate in ongoing education, stay up to speed on the latest advancements, and undergo ongoing evaluation from the board(s) in question.
Consult With Dr. Rizk in NYC
To learn more about why Dr. Sam Rizk is the teen rhinoplasty surgeon of choice for so many patients, contact his office today.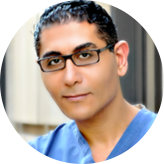 By Dr. Sam S. Rizk, M.D., FACS.
Dr. Rizk is a double board-certified facial plastic surgeon who specializes in rhinoplasty surgery and a recognized expert on the latest advances in facial plastic surgery techniques. He performs a range of facial plastic surgeries at his New York practice.