Alar Base Reduction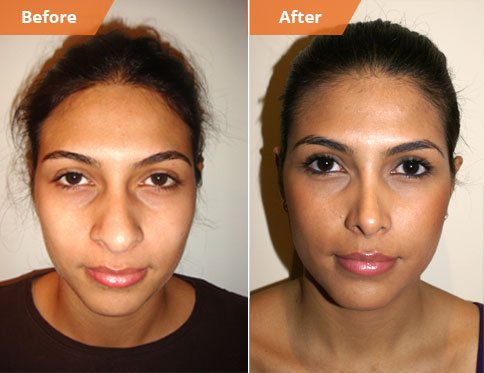 *Results may vary.
View More Photos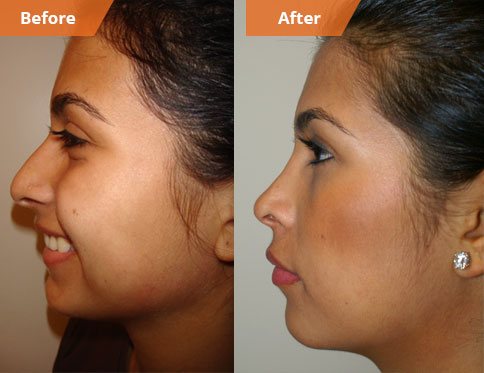 *Results may vary.
View More Photos
Alar base reduction is a rhinoplasty technique which corrects nostrils that are too wide. Also referred to as nostril reduction, this technique may narrow the nostrils, reduce the length of the nostril sidewalls or the overall sized of the nostril, or correct asymmetry of the nostrils. It may be performed as part of either a primary or a revision rhinoplasty procedure. Each alar base reduction procedure is unique to the patient and will depend on his or her needs and anatomy.
Excessively wide nostrils may be the result of genetics, ethnicity and other factors. This trait is a very common complaint among certain ethnic groups, namely African-Americans, Asians, Hispanics/Latinos and patients of Middle Eastern or Mediterranean origin.
Alar base reduction is typically one of several techniques performed during a rhinoplasty procedure. Dr. Rizk performs it as the last step of the procedure. One reason for this is that if changes to the nasal tip are part of the procedure, it is often helpful for Dr. Rizk to view the outcome of this step before performing nostril reduction.
Dr. Rizk will take several factors into consideration when performing alar reduction, including nose shape, alar flare, alar base width, proportion, ethnicity and other considerations. He prefers to avoid making the incision on the outer edge of the nostril (where it meets the cheek) because scarring with this type of incision is more conspicuous. Instead, he makes the incision on the inside portion of the nostril, where scarring is usually almost completely unnoticeable. This type of incision is called a Weir incision, and it is usually made if the nostril bases are too wide.
Nostril reduction can be a tricky procedure; if performed incorrectly, the following unfortunate outcomes are possible: teardrop-shaped deformity, abnormal appearance of the nasal base, asymmetry, and overly narrow nostril openings. Any of these may lead to loss of the nostrils' natural contour, and the tip may end up looking too triangular.
Following alar base reduction the nose should appear to be in proportion with the rest of the nose and with your other facial features.
For more information on nostril reduction, contact Dr. Rizk today.