Rediscover Your Youthfulness, Retain Your Masculinity
It takes an experienced and detail-oriented surgeon to be able to treat the aesthetic concerns of both men and women. Dr. Rizk, a double-board certified facial plastic surgeon in NYC, has extensive experience in both male and female cosmetic surgery procedures. These treatments can address a number of concerns while offering short recovery time and natural-looking results.
What Concerns Can Male Plastic Surgery Address?
When it comes to plastic surgery, men have a unique set of concerns, which are quite different from those of women. Men typically wish to correct signs of aging while retaining a natural and masculine appearance. Male patients, who comprise one-fourth of Dr. Rizk's patient list, also choose procedures to help them address issues like:
A crooked or deformed nose
Flaring nostrils
Sagging and unhealthy skin in the face and neck
Droopy eyelids and dark circles around the eyes
Frown lines, wrinkles, and uneven spots
Prominent ears
Chin and cheek imperfections
Real Patient Results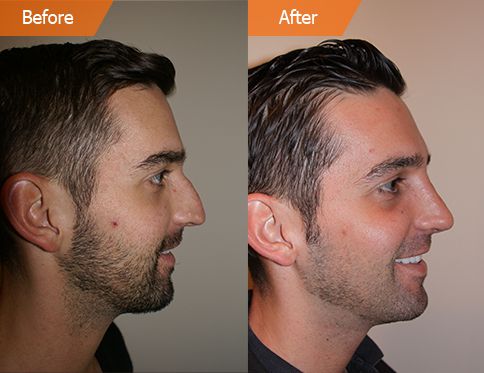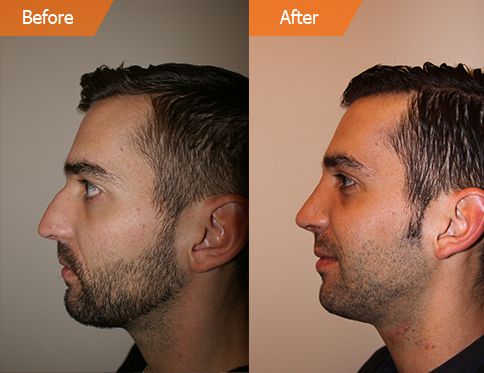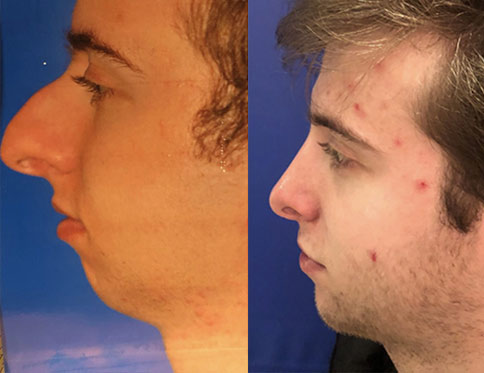 What Plastic Surgery Options Do Men Have?
Cosmetic procedures are on the rise, and many of these treatments are performed on men. In fact, men now make up 25% of Dr. Rizk's client base. Male plastic surgery1 in New York is not about looking much younger than your actual age, rather, it is about enhancing your natural appearance and maintaining your skin & health. Just like you would visit the gym regularly to maintain or build your strength and fitness, a proper anti-aging routine also benefits from regular visits to the plastic surgeon.
With recent advancements, as well as the implementation of less invasive and non-surgical rejuvenation treatments2, men have many options to slow down the inevitable signs of aging or correct uneven or unflattering facial features:
Male Rhinoplasty
Rhinoplasty, commonly referred to as a nose job, is a procedure that alters the shape or size of the nose to bring about a more balanced look to the face, and in many cases, improves functionality. Male rhinoplasty NYC aims to retain a defined and masculine profile, while restoring harmony to the face.
Eyelid surgery for Men
Blepharoplasty (eyelid surgery) improves the appearance of the eyes by removing fat from above or below the eyelids, or removing excess skin. This not only produces a more youthful appearance, but can also correct function problems of the eyes, and restore vision concealed by drooping skin.
Facelift and Forehead Lift
When it comes to facelift men can also benefit. Wrinkles, drooping skin and other age-related creases are a natural part of getting older. However, a facelift or forehead lift from Dr. Rizk will have you looking naturally refreshed, without it being obvious you've had surgery.
Neck Lift
Similar to the face, the neck also shows signs of age. In order to avoid a pulled look that creates a feminine appearance, as part of his neck lift for men, Dr. Rizk typically operates under the neck muscles to lift the deeper tissues and slide them into a more youthful position.
Ear Surgery
Otoplasty is commonly known as 'ear pinning' surgery, but is much more than that. For those who have been teased or bullied about their ears, or just aren't happy with how they look, otoplasty corrects the size, placement or proportion of the ears.
Chin and Cheek Surgery
A strong, defined chin is important for many men to feel confident and masculine. For those looking to strengthen a 'weak' chin or balance the face, this can be achieved through chin and cheek surgery, with the use of implants or the existing bone and fat.
Risks of Plastic Surgery for Men
There are some side effects3 that men can experience after a plastic surgery procedure, depending on what type of treatment they receive. Some of these include:
Temporary swelling
Minimal chance of infection
Possibility of experiencing pain and discomfort during recovery
Anesthesia related-side effects like nausea or dizziness
Furthermore, complex surgeries carry additional risks. Before performing any procedure, Dr. Rizk evaluates all patients and discusses the possible side effects so that you can make an informed decision.
Why Choose Dr. Rizk for Men's Plastic Surgery?
Often hailed as one of the best male facial plastic surgeons in New York, Dr. Rizk has undertaken thousands of facial plastic surgery procedures for both men and women wanting to look and feel healthy and revitalized. A highly experienced double board-certified facial plastic surgeon, he creates natural results that enhance each patient's features.
Are you a man considering plastic surgery and looking for the best male plastic surgery before and after results, contact the office today to book a consultation.
Frequently Asked Questions
Am I a candidate for male plastic surgery NYC?
If you have aesthetic concerns you wish to address, and are in good health with reasonable expectations in regards to the results of surgery, you may be a candidate for men's plastic surgery. At your consultation, Dr. Rizk will undertake a thorough assessment, listen to your concerns, and develop an appropriate treatment plan.
Will people be able to tell I've had surgery?
Dr. Rizk's experience, advanced techniques and surgical artistry means in many cases, once you've healed from your surgery, it will be virtually impossible to discern whether you've had a surgical procedure. You'll simply look more refreshed and healthy.
How Much Does Men's Plastic Surgery Cost in NYC?
Each patient is different, as are their surgical procedures. Pricing will be discussed as part of your consultation with Dr. Rizk, and in many cases, procedures can be undertaken at the same time in order to save on both costs and recovery time.
Written Patient Testimonials

Dr. Rizk and his staff were absolutely incredible! They made me feel so comfortable throughout this entire process and I am so grateful for everyone (especially Dr. Rizk) for helping me look the best version of myself. My nose looks natural and perfect and I am in love with the results!!! If you are on the fence, I definitely encourage you to come to this office because Dr. Rizk gave me the confidence and grace to present myself to the world!
-Leah Abramson

Words cannot express how tremendously grateful and impressed I am for his services. The process was painless and he produced beautiful results that I'm so happy with. Dr. Rizk is extremely precise, patient and detail orientated. He narrowed my nose 1mm at a time! I'm already looking forward to my next small tweek with him.
-Allison S

Fixed my nose that was extremely crooked from a car accident. Also did my brother's nose which case out beautifully
-Katie M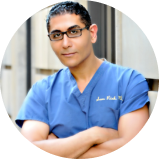 By Dr. Sam S. Rizk, M.D., FACS.
Dr. Rizk is a double board-certified facial plastic surgeon who specializes in rhinoplasty surgery and a recognized expert on the latest advances in facial plastic surgery techniques. He performs a range of facial plastic surgeries at his New York practice.