Plastic Surgery for Men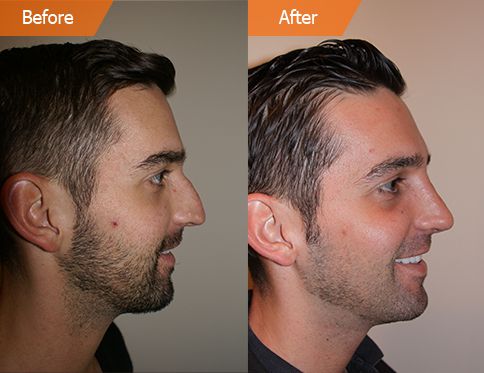 *Results may vary.
View More Photos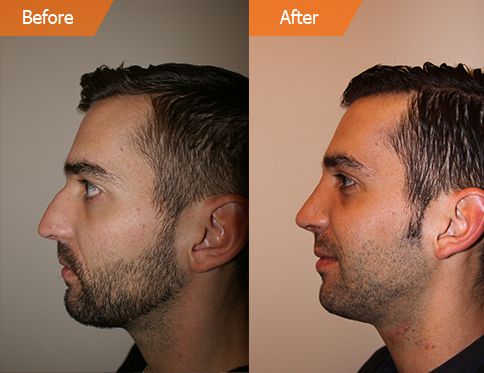 *Results may vary.
View More Photos
Whether a gym buff, a busy professional, or on the verge of retirement, men have a lot of the same aging and image concerns as women do. For years men have been merely an afterthought when it comes to cosmetic enhancements. With the introduction of less invasive surgeries and non-surgical rejuvenation treatments, men now have a full arsenal of options to help them tackle the aging process.
Facial rejuvenation for men is not about looking 30 when you hit 50. Rather, it is about choosing a reasonable approach to caring for your skin, sun avoidance, and intervention when it is indicated. The key to anti-aging is maintenance. Compare it to working out; you can't just go to the gym once in a while. Rather, you have to keep going on a regular basis to maintain the benefits.
Among the main trends we are seeing for men are their desire to do something to tighten their necks, baggy eyelids, and fix the shape of their noses. Currently, nose surgery is the most common procedure for men under age 40. Men are also far less wrinkle obsessed than women are. They don't always mind a few lines and creases, but they tend to zero in on fatty deposits under their eyes that make them look tired and older, and they always complain about their necks slackening up. However, there are excellent minimally invasive remedies for both of these concerns that Dr. Rizk recommends, especially for men who want a short recovery without the risks, scars and telltale signs of major cosmetic procedures. Dr. Rizk's main goal for his male patient is to provide a natural and long-lasting result with a rapid recovery.
Male rhinoplasty surgery is on the rise, especially for men under 40. Men are more prone to nasal injuries from sports and tend to have added breathing problems from these injuries. They tend to ask for more subtle improvements in nasal appearance and also want to improve their breathing. Those with a history of sports-related-injury tend to have a deviated septum. Some have collapses in certain parts of their nose from previous trauma which can also affect their breathing, in addition to the deviated septum. The so-called saddle nose deformity, which is more common in male noses, can result from this history of trauma and can be corrected with various cartilage grafts.
For baggy lids, Dr. Rizk addresses the fatty bulges through a scarless "transconjunctival" approach that involves placing an incision only inside the lower lid. Using fine instruments, Dr. Rizk removes a small amount of excess fat to smooth out the contour of this area. In some cases, he can also inject a hyaluronic acid filler to fill in the tear trough area, or hollows below the lids that can cause a darkened shadow.
Dr. Rizk's signature Rapid Recovery Necklift was specifically designed for his high profile male executive clients who needed to be back in the office within a week. Dr. Rizk only uses small hidden incisions that are carefully placed to avoid disturbing the hairline. By utilizing a high definition telescope, Dr. Rizk can lift the tissues very efficiently to produce a smooth neck contour with an almost bloodless technique and avoid the use of uncomfortable drainage tubes. By using advanced tissue glue adhesives, he can also significantly cut down on bruising and bleeding, which is more common in men.
Men are rarely comfortable talking about having any work done, and usually keep it a secret from their partners, colleagues and friends. The modern techniques we are using offer very distinct advantages in terms of the length of time the operation takes to perform, after care and recovery. The Rapid Recovery Necklift can be performed in Dr. Rizk's fully accredited surgical suite, and his patients can be home the same day with private nursing care as needed. In most cases, they are back to work in a week and to the gym in two to three weeks, without anyone knowing they have had anything done.