Out Of Town Patients
Dr. Rizk is a board-certified facial plastic surgeon who specializes in rapid recovery facelift/necklift, blepharoplasty, rhinoplasty, and endoscopic browlift. His expertise is requested by patients from around the globe - England, Italy, Austria, South Africa, Egypt, Saudi Arabia, Kuwait, and various countries in Asia and South America as well as many states in the United States. Dr. Rizk is fluent in both English and Arabic.
1. First, you contact his office manager, Dila, by either email or phone regarding your requested facial plastic surgery procedure.
2. Send us your front and profile pictures and if thinking of rhinoplasty a base view of the nose and if thinking of a facelift a profile view looking down as well.
3. Dr. Rizk will review your pictures and make a determination which facial plastic surgery procedure is best for you. He may or may not agree with all your requests depending on facial balance and harmony. Dr. Rizk's goals are natural looking faces with definition and beauty. By looking at his website photo gallery and videos of the facial plastic surgery procedures that he has performed, you can get a sense of his artistic views.
4. You can then arrange a Skype phone consultation with Dr. Rizk and once you have both agreed on what would be the best plan, you can then contact the office manager for a quote.
5. All facial plastic surgery procedures are outpatient and done in our Certified Park Avenue Facial Surgery Center.
6. You will typically go back to your hotel room after adequate time of observation in our center. You will have private duty facial plastic surgery nurses available for you who can stay with you in a nearby hotel. They are required by Dr. Rizk for at least 12 hours after facelift or blepharoplasty surgery, but not typically needed after other facial plastic surgery procedures such as a rhinoplasty,necklift, lip or chin augmentation or ear surgery. If you are traveling alone, we also offer personal aid service to escort you to the hotel room at a lower fee than a nurse. Your safety is our number one priority. You will be discharged from our facility only after you have been completely stabilized and have meet US standards for discharge from outpatient surgery.
7. You will be helped in making hotel arrangements, if you need, by our office staff and concierge.
8. You need to arrive to New York 1-2 days before your surgery date, during which you will have an in-depth consultation with Dr. Rizk and your photos will be taken. You will generally be required to stay in New York for 1 week after facial plastic surgery to recover and have your splint removed after rhinoplasty, sutures removed after a blepharoplasty and stitches removed after facelift or neckliftsurgery. Sometimes facelift patients may need to stay up to 10 days.
9. Typically, medical clearance is required in your country and usually includes at least blood work below age 40 and blood work and EKG (electrocardiogram) above age 40. This is required by our JCAHO certified surgical facility which meets the highest standards in outpatient plastic surgery. This is done prior to your surgery and is either faxed or emailed to us.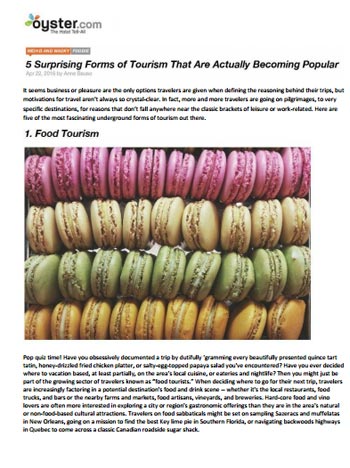 5 Surprising Forms of Tourism That Are Actually Becoming Popular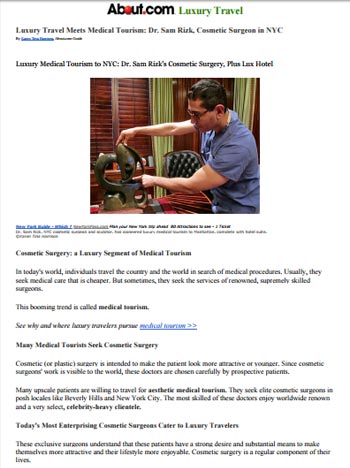 Dr. Rizk Featured on About.com - Luxury Travel Meets Medical Tourism
10. You can only book a facial plastic surgery date by paying a non-refundable 20 percent deposit. Once a surgery date is booked, you will be emailed before and after instructions for your facial plastic surgery procedures.
Dr. Rizk offers his patients VIP concierge services with direct access to the owner of NYC Concierge for any services they may require to make their stay in New York a pleasant one. Dr. Rizk will answer any questions prior to your trip to New York and the day before surgery. Dr. Rizk will meet with you to review your facial plastic surgery procedure, meeting you, if needed, even after office hours and on weekends. Dr. Rizk will also visit your hotel room after surgery to ensure your procedure's success and monitor the healing progress.
We encourage you to contact our office manager, Dila, by phone at 212-452-3362 or e-mail Dila1040park@gmail.com with any questions you may have. Dila will also make arrangements to accommodate your schedule and arrange your stay with the best and most convenient hotels in the area. Ancillary services such as hair, makeup, and nails will be available by request in your hotel room. We also have our own concierge service to meet all your needs and make your experience a pleasant one.
We look forward to hearing from you.
Thank you,
Dr. Samieh S. Rizk and Staff
Contact Us
HOTELS
Affinia Gardens (Recommended)
215 East 64th Street
(212) 355-1230
Ask for Junior Suite or 1
Bedroom Suite
Carlyle Hotel
35 East 76th Street btwn
Madison & Park
(212) 744-1600
The Plaza Hotel
5th Ave at Central Park South
(212) 759-3000
The Lowell
28 East 63rd Street (Between
Madison and Park Avenues)
(212) 838-1400
Elegant, Classy, Expensive
with Discreet Services
Courtyard by Marriott
Manhattan Upper East Side
An East River Hotel
410 East 92nd Street
New York, NY 10128
(212) 410-6777 Marriott.com/NYCMH
Plaza Athenee
37 East 64th Street
(212) 734-9100
Hospital corporate rate subject to availability
Waldorf Astoria
301 Park Avenue
(212) 355-3000
The Surrey
20 East 76th Street
(212) 288-3700
Convenient, Local, Discreet, Moderatly Expensive
Use special discount code "EarEye" when making your reservation
Sutton Place New York
330 E.56th Street
New York, NY 10022
888-AKA-0140
Suttonplace@stayaka.com
www.stay-aka.com
1bedroom $11,000 a month / $335 per night
2bedroom $20,000 a month / $545 per night