Laser Resurfacing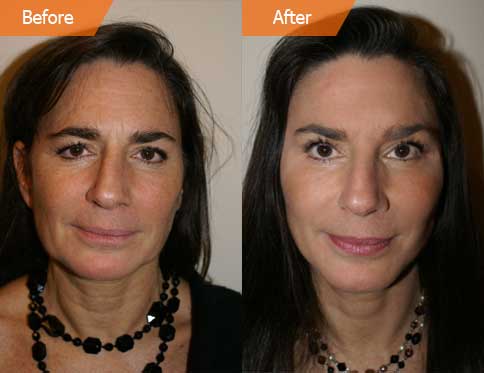 *Results may vary.
View More Photos
*Results may vary.
View More Photos
Fractionated CO2 Laser Technology Dr. Rizk offers the latest rapid recovery laser for wrinkles, sun spots, discoloration, and skin tightening. Fractionated CO2 technology differs from the original Fraxel® laser because it is a single treatment that delivers more dramatic results than non-ablative lasers. It offers significant improvement over traditional carbon dioxide (CO2) lasers because there is no prolonged recovery or redness. This laser may be used on all skin types including darker skin, as well as for men. Fractionated CO2 laser resurfacing may be performed as an office procedure. Results are reduced lines, wrinkles, sun damage, brown spots, acne scars and improved tone, texture and skin tightening.
Anesthesia: Either topical numbing cream or light sedation can be used
Combined Procedures: Laser resurfacing may be combined with a facelift, eyelift, rhinoplasty, or browlift, or it may be performed as a separate procedure. When done at the same time as a facelift, only the fractionated CO2 can be used to resurface the entire face. Although the erbium and traditional CO2 lasers may be combined with a facelift, only the areas around the mouth and eyes may be done at the same time, and not the whole face.
Recovery Time: Discomfort is minimal, and there may be a burning sensation that lasts for 2 days. Most patients can return to normal activities in a week, and they may apply makeup to cover any pinkness.
Postoperative Care: Ointment is applied to face for first few days after the procedure and the peeling starts to occur after 5-6 days and may persist for 10 days. After the peeling occurs, smoother skin appears and tightening of the skin will continue to improve for up to 6 months. Sun avoidance for at least 3 months is recommended following any type of laser procedure and sunblock should be used at all times.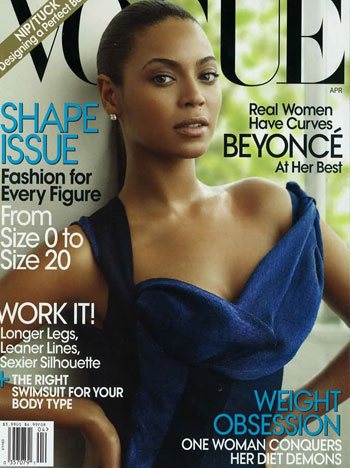 Vogue - Endoscopic Muscle Facelift/Necklift and Fraxel-Co2 Laser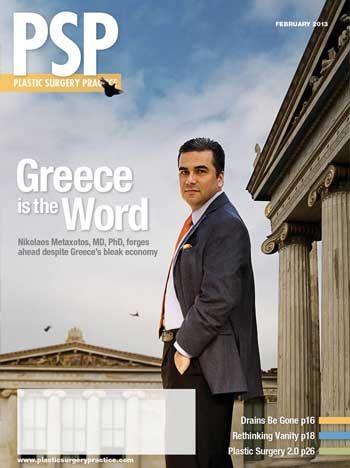 PSP Magazine - Meet the Ultimate Skin Resurfacing System
Cortex Laser
As you age, your collagen production begins to decrease, which leads to the breakdown of the skin's underlying supportive tissues. Exposure to UV rays, smoking, and other daily environmental assaults can cause your skin to become pigmented and prematurely wrinkled. To combat sun damage, shallow acne scars, creases and wrinkles, Dr. Rizk uses the NEW innovative Cortex laser system that has been shown to enhance the skin's strength and elasticity. After a single treatment, you will see dramatic results in terms of smoother skin, better texture, and reduced pigmentation and irregularities.
The Cortex laser is the first skin resurfacing laser system to include both a CO2 and Er:YAG (Erbium YAG) laser in the same console. Offering fractional CO2 plus full-coverage Er:YAG technologies, the dual wavelengths allows Dr. Rizk to perform skin resurfacing procedures on a variety of skin types and for a variety of skin conditions. Here is how it works: The CO2 laser penetrates deep into your skin and provides heat to stimulate collagen production, while the Er:YAG laser is effective for more superficial rejuvenation. It helps soften the texture and remove pigmentation from the top layers of skin. The Cortex laser's unique design is able to treat the skin with precise control, and can be tailored to a specific problem and allotted downtime. If you have deeper wrinkling or acne scars, Dr. Rizk may suggest a more extensive treatment. For fine lines and superficial sun damage, a single procedure can produce significant results with a quicker recovery.
Using a grid pattern of tiny pulses of light targeted to reach the damaged skin, Dr. Rizk uses the Cortex laser to deliver a column of energy that can reach the dermal or deeper layer. This process stimulates the natural collagen renewal process. Since the laser beams have been fractionated, small areas of untreated skin will be left between the treated spots, which speeds the healing process. The treatment takes 30 minutes or less, and results can be seen in a five to ten days, depending on the extent of your treatment. Dr. Rizk can also use the Cortex laser at the same time as a face and neck lift to add the benefits of skin resurfacing to your surgical results.
After treatment with the Cortex laser, Dr. Rizk will recommend sun avoidance for four weeks and daily use of a broad spectrum SPF30.
If you are interested in the Cortex laser procedure, please schedule an appointment with Dr. Rizk at 212-452-3362.