YOUR FACELIFT PRIMER
Posted by Dr. Sam Rizk October, 10/01/2018 - 06:39 AM
Techniques used to remove facial skin and reposition facial and neck tissues vary depending on your desired results and your anatomy. The specific technique your facial plastic surgeon chooses will determine the location of the incisions and the quality and position of the resulting scars.
New York City facial plastic surgeon Sam Rizk customizes each facelift procedure for the individual patient after careful examination and comprehensive consultation.
The most common facelift techniques include:
Modified deep plane facelift. Your facial plastic surgeon will make incisions at your hairline which may be placed at your temples, continuing down and around the front of your ears and ending behind your ears if needed. An incision might be made under your chin to improve the appearance of your neck by tightening muscle bands and/or removing excess fat deposits. Dr. Rizk often utilizes a modified deep plane technique to create the most natural-looking and lasting results. He takes extra care to place incisions in the most inconspicuous locations to expedite the healing process and reduce the possibility of a widened or irregular scar.
Limited-incision or short scar facelift. Your facial plastic surgeon will make short incisions in your hairline starting at your temples and continuing down and around the front of your ears. Dr. Rizk may recommend a short scar technique for younger patients who have minimal signs of facial aging and do not desire or require surgical intervention on the lower face.
Isolated Neck lift. In some cases, where only the aging jowls and neck need to be addressed, Dr. Rizk may make incisions starting in front of your earlobes and continuing around behind your ears in your lower scalp as well as a small incision under your chin.
After making the incisions, your facial plastic surgeon will redistribute fat from your face, jowls or neck and reposition underlying tissues. If there is excess fat in the jowls or cheeks, he may utilize liposuction to remove some of the fat deposits for an improved contour.
In some cases, Dr. Rizk may recommend fat grafting that involves removing fatty tissue from the tummy, hips or thighs and processing it to be placed in cheek, eyelid and temporal hollows where volume has been lost over time. Your skin will then be draped over the new contours and excess skin will be removed. Sutures will be used to carefully close the incisions.
A full face and neck lift generally takes two to four hours, depending on the quantity and quality of the skin that needs to be addressed and any other cosmetic procedures that may be done at the same time, such as fat grafting,   laser resurfacing, and eyelid surgery.
Prior to surgery, Dr. Rizk will recommend that you avoid all vitamins and medications that can interfere with the anesthesia and the healing process. He will also give you his proprietary combination of Arnica and Bromelain to help minimize bruising and swelling.
After the procedure
After a facelift, your incisions will likely be covered with a light bandage to minimize swelling and bruising. Due to his meticulous approach to the surgery, Dr. Rizk typically does not place drains to remove excess blood or fluid, which speeds healing and makes the post-procedure course more comfortable.
In the first few days after a facelift:
Rest with your head elevated to minimize swelling
Avoid exposing your incisions to excessive pressure or movement
Avoid clothing that needs to be placed over your head
Dr. Rizk and his medical staff will explain when you can resume daily activities, such as washing and drying your hair, bathing, and showering, wearing makeup, exercising, flying, and other routine activities.
You will probably need to see your facial plastic surgeon the day after your facelift. Dr. Rizk will likely remove any dressings and check that your incisions are healing well. Your incisions will crust as they begin to heal. In most cases, you can shower and wash your hair in a day or two with a mild shampoo to gently remove the crusts. His nurse will remove your stitches and staples at about a week after surgery.
You should rest at home during the initial recovery period. Avoid direct sun exposure for 6-8 weeks or until your scars are no longer pink. While the length of recovery varies, it is best not to plan any important social engagements until about four weeks after surgery, although many patients can get out and be seen in as little as two weeks. Due to the techniques Dr. Rizk uses for his facelift patients, recovery is generally uneventful and patients can get back to normal activities quickly.
By redraping and repositioning loose skin and tissues, a well-executed facelift can give your face and neck a more youthful appearance for years to come. As you age, your facial skin may begin to sag and droop again, but the results of the surgery will help to keep you looking more youthful for longer.
To schedule a consultation for facelift surgery with double board-certified facial plastic surgeon Sam Rizk, MD, call 212-452-3362.
Related Blog Posts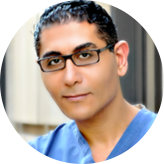 By Dr. Sam S. Rizk, M.D., FACS.
Dr. Rizk is a double board-certified facial plastic surgeon who specializes in rhinoplasty surgery and a recognized expert on the latest advances in facial plastic surgery techniques. He performs a range of facial plastic surgeries at his New York practice.