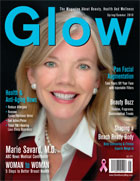 Glow Magazine
Date: Spring/Summer 2010
Glow Book Nook
A Roundup of Healthy Aging Resources
"The field of plastic surgery continues to evolve by offering patients personally-tailored procedures and the dramatic results they covet with less downtime. Park Avenue plastic surgeon Dr. Sam Rizk caters to a crowd with distinguished tastes and a discerning eye. He specializes in customized facelifts, necklifts, eyelifts, browlifts and rhinoplasty. Dr. Rizk will address his newest techniques in facelifts, necklifts, rhinoplasty and brow plastic surgery using the high-definition 3D vision system in his book titled The New Face: A High Definition 3D Approach For Natural,Enduring Rejuvenation. Although this system has been used in other non-cosmetic surgeries such as abdominal surgery, prostate surgery, and brain surgery, Dr. Rizk is first surgeon to use it in plastic surgery.
Through 3D telescopic visualization of face neck, surgery can be done with smaller incisions and greater precision. Smaller facelift or nose incisions (inside nose), small telescopes are placed allowing high definition 3D viewing of all structures before they are modified or lifted. This telescope is connected to a high definition camera system which is connected to a console that translates the image in 3D onto a high definition monitor system. Dr. Rizk's book will be published in English and Arabic for the layman. Dr. Rizk recently appeared on 'The doctors' on CBS and on the Dr. Oz Show, where he was the first plastic surgeon to ever perform a nasal high definition evaluation for Septoplasty/Sinusitis on national television.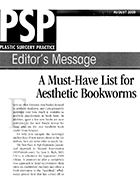 Plastic Surgery Practice
Date: August 2009
Editor's Message
A Must-Have List for Aesthetic Bookworms
Every so often I receive new books devoted to aesthetic medicine, and I am pleasantly surprised over how much is available to aesthetic practitioners in book form. In addition, quite a few new books are now published in the new Kindle format for those who use the new handheld book reader from Amazon.
To help you navigate the seemingly endless lists of new tomes about to hit the shelves, here are some titles to watch for: The new Face: A High Definition Customized Approach to Natural Rejuvenation (MDPublish.com), by Sam S. Rizk, MD, Facs, is scheduled for September 2009 release. It promises to offer a completely new approach to facial rejuvenation. Rizk takes on established methods and offers a fresh alternative to the "facelifted", windswept postop look that has turned off so many people.